It is commonly accepted fact that prolly 99% students here have seen and got bitten by a
Charlie
Sounds ridiculous but this cunning, acid filled creepy crawliee have been running around campus LIKE A BOSS.
I officially belong here wtf.
One weird thing bout the wound is, it looks more like a vampire bite because it has 2 punture holes. Who knows. Charlies might be Gay.
When my coursemates are all into 9gag, this happened.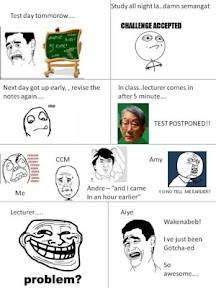 Too much 9gag influences lol.
- Posted using BlogPress from my iPad
Location:Jalan Ilmu 1,Nibong Tebal,Malaysia